If you want to work or live in Australia, sooner or later you would need to open a bank account. To understand which account is better, you first need to understand a little bit about different banks in Australia and what services they offer.
Big Four Banks
There are 4 major banks in Australia, also called "big four banks".
Commonwealth Bank of Australia (also called CommBank or simply CBA)
Commbank is the largest bank in Australia. It has an extensive network of branches and nearly 4000 ATMs in Australia. CommBank also boasts of a very user-friendly online banking interface as well as a sophisticated mobile app.
National Australia Bank (NAB)
Though NAB provides similar features to the other big four banks, it is the only bank which provides an unconditionally free account. In other words, it is the only big bank, which doesn't charge any monthly account fees. NAB has the lowest amount of ATMs in Australia, just over 900.
Australia and New Zealand Bank (ANZ)
ANZ bank is another bank which allows you to open a bank account from overseas. It was also the first bank to support Apple Pay in Australia, though the other banks in big four except Westpac also support Apple Pay now. It has a good network of branches and nearly 2000 ATMs across Australia.
Westpac
Westpac is the second-largest bank in terms of customer base after CommBank. It also has the second-largest network of ATMs of around 3000 ATMs across Australia. It is the only big bank which provides a vast network of overseas ATMs too which can be handy if you travel overseas a lot.
On a minor note, since late 2017 the big four banks removed ATM withdrawal fee for using their ATMs by non-customers. In other words, if you are a NAB customer, you can still use CommBank or Westpac or ANZ ATM for free and vice versa. This means that the number of ATMs is no longer a factor in selecting a bank unlike it was a few years ago.
Also noticeable is the fact that unlike India, there are no public sector banks in Australia. This means less bureaucracy and better customer service. Unfortunately, it also means private banks have more control over the financial sector, although the Reserve Bank of Australia has regulatory control over all the banks in Australia along with Australian Securities and Investments Commission(ASIC) and Australian Prudential Regulation Authority (APRA).
Other Banks In Australia
Apart from the big four banks, there are other international and small local banks in Australia. Most notable international banks are ING, Citibank and HSBC while some of the well-known local banks are Bendigo Bank and Bank of Queensland.
Please remember that though you have an account with a foreign bank like Citibank in your home country, you still have to open a separate Australian account.
Plus, even though these global banks advertise that they provide free international transfers, their conversion rate is almost always less than desirable. So be careful when you think of opening account with them just because you are getting free international transfers.
ING shines as a notable example of a better bank without any of the shiny marketing tactics. It is also the only bank which operates without branches. Everything can be done online and there are no monthly fees. Plus, they offer free international ATM withdrawals and no international transaction fee.
Not so long ago, there was more than one reason to choose ING.
Signing Bonus
Till early 2018, you can earn as much as $100 as a signing bonus with ING. All you need to do is sign up using a promo code, deposit $1000 within a month of joining, open a savings account and make 5 transactions with ING debit card. Unfortunately, the offer is now reduced to $25. I guess the inflow of referrals was just too much for ING. But if you want to grab $25, you can still use my promo code EEY607
No ATM Fees
Four years ago when I opened an account with ING, the big four banks used to charge fees for use of their ATM by non-customers. On the other hand, ING offered free ATMs anywhere in Australia, if you deposit $1000 per month and make transactions using ING debit card. Any ATM fees charged by the bank is immediately refunded back to you. This is still true.
2% Cashback
A few years ago, ING has a fantastic offer. If you make a purchase of under $100 using PayPass, you used to get 2% cashback. This was perfect for grocery shopping or any minor spending. Sadly, they

discontinued this offer

🙁
Better Interest Rate
ING offers 1.95% rate on a savings account (provided you deposit $1k each month and make 5 card transactions) which though not great, is still better than what big four banks offer.
Despite a few of those offers don't exist now, ING still is a great bank and I would definitely recommend opening an Everyday + saving maximiser account with them (use my promo code EEY607 to earn 25$ signing bonus). Unfortunately, ING doesn't provide an option to open an account from overseas as the big four banks do.
Banks in Australia : Quick Facts
Banking in Australia was quite a different experience for me after coming from India. Here are the few differences I noticed.
1. Bye Bye Branch
I have never ever visited a branch in Australia. Okay, that was an exaggeration. In the last 4 years, I visited a branch probably for 3-4 times. Rest of the time, I use online banking or phone banking. The main reason is that there is no need to visit a branch unless it is something you can't do online or on the phone, which is very rare. Plus, there are very few branches nearby to you, especially as you move away from the CBD. That's not surprising given the high cost of labour required to run these branches.
In fact, ING bank doesn't have any branches in Australia at all. I do a lot of banking with them and never faced any problem. It might sound strange but it is incredibly cost-effective for the bank and seamless experience for customers.
2. Contactless payments
First time I went to buy something using my debit card, the guy at the counter said: "just tap whenever you are ready!"
Looking at my blank face, he knew instantly that I didn't get what he was saying. He repeated, "just hold your card here, near the machine". Blip! came the sound. "There. that's it. All good mate" he said cheerfully. That was my first experience with the contactless payment.
Remember this was 2015, at least 2 years before Apple Pay and 3 years before Google Pay was launched in Australia. So it was quite magical (and somewhat scary!) to see that you don't have to swipe the card or enter the pin to pay.
Of course, if you want to go the old way of swiping or inserting the card, that works too. But seriously who wants to go the hard way?
3. Plastic currency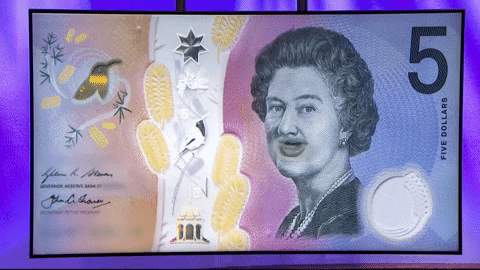 One of the best things about Australian dollars is that they are unbreakable. Fold them, twist them, trample them, put them in a bucket of water, do whatever you like and there won't even be a scratch on it. You gotta love that. 🙂
Australia was the first country to develop the technology to produce Polymer banknotes. It's plastic money, literally.
I am sure they will be immensely useful in a tropical country like India where paper notes have to survive rain, sweat, folds, rough handling, weird writings and whatnot. I hope that Reserve Bank of India takes a cue from Australia, stop doing the trials of plastic notes and get them in circulation.
Not just durable, but these polymer notes are also very secure because they are loaded with security features. Also, they are hard to fake, so less chance of counterfeiting.
4. No cheque, please
Usually, when you open a bank account in India, one of the items in the starter kit is the chequebook. In Australia however, you don't get chequebook with the bank account by default. You will have to explicitly ask for it.
Though most banks in Australia don't charge fees for issuing cheque book, there are charges for clearing them. Then there is a time factor as most cheque payments take 3 working days to process. It's not super convenient either as you need to visit a branch or at least an ATM to deposit the cheque. No wonder, it's not a popular choice.
The only time I used it was to pay the bond for a rental house and then too it was a bank cheque, not the regular one. A bank cheque is like a pay order where you ask your bank to pay a certain amount to the person or business against whom the bank cheque is issued.
5. Withdraw cash at supermarkets
Let's say you are short of cash and there is no ATM nearby. What would you do? In Australia, you go to the supermarket.
That might sound strange but in Australia, you can go to the big supermarkets like Woolworths, Coles, Big W, Kmart or even McDonalds, swipe your debit card at the payout machine and get the cash. Easy as pie. You don't even have to buy anything to withdraw money. Use it just like an ATM.
A few years ago, when withdrawing money from ATMs other than your own bank would cost you an ATM fee of 2$ or 3$, this option was such a blessing because you don't have to pay any fees. Even now, when some small banks charge ATM charges, it comes very handy to get the cash out of supermarkets.
6. Small highest denomination
The highest denomination in Australia is 100$. Compared to India, where the higher denomination is INR 2000, this is 20 times less. It has been argued by economists that higher denomination notes almost always benefits criminals than ordinary people. In fact, a lot of developed countries such as the US, the UK, Canada and Australia have the highest denomination of 100 or less.
On that note, even though Australia has $100 note, I am yet to see one. In fact, the only time I had a 100$ note was when I bought Australian dollars before coming to Australia. It is a very rare occurrence that you will receive $100 note from an ATM in Australia.
7. Mobile Cheque Deposit

As I mentioned above, I rarely used cheques in Australia partly because of the hassle to deposit it. However, NAB and Westpac have rolled out a technology by which you can take a photo of the front and back of a cheque using your mobile phone, upload it to the bank's app, validate the details and confirm the deposit. Once you do that, the cheque will be cleared in 3 working days as usual and funds will be added to your account. Now that's really a nice way to serve your customers. Imagine if that is introduced in India, how much pressure it will take off the bank staff. Plus, no long queues, more happy customers, yay! *dreaming*
That sums up my experience of banking in Australia so far. I will update this post later should I encounter more amazing stuff related to the banking in Australia. In the meantime, please share your experiences with Australian banks, good or bad, in the comments.